Asset-Based Reverse Logistic
3PL Provider
We at Go Freight are a cutting-edge third-party logistics (3PL) company that works to assist retail businesses to simplify their reverse logistics processes by creating a more effective system whilst also monitoring costs. Today, nearly 90% of Fortune 500 companies use 3PLs to oversee their freight operations, up from 45% in 2002, and we are proud to be at the forefront of this boom. We believe that by employing the services of a 3PL like ours, we can be a vital part of a reverse logistics solution for your business.
By choosing to use a third-party logistics (3PL) provider like Go Freight, retailers will be able to increase their profit margins when it comes to reverse logistics. By allowing us to streamline the process for you, we can help save you money by managing returns and freeing up resources for you to focus on other areas of your business.
Recycling can become a time-consuming and costly process requiring businesses to follow stringent safety guidelines to confirm that goods are disposed of in the correct manner. Many items that can't be resold will end up in landfill.
Reverse Logistics
Management and Software
By using a 3PL to streamline your reverse logistics, you can avail of the benefit of scalable resources in order to deal with variabilities in customer returns. Our staff and resources are able to handle any unexpected fluctuations in returns volume by remaining a flexible and reliable part of the supply chain that your customers can rely on.
As an added benefit, we can help to minimize your shipping costs if your business isn't experienced in obtaining the best rates for your unique needs. By utilizing our services as a 3PL, we can help reduce costs by offering our logistics expertise and unique outlook on rates as well as the best routes for returns.
We are a well-established 3PL that can offer facilities to store your goods, as well as a hi-tech warehouse management system that tracks stock and provides a complete overview of the supply chain throughout the entire returns process.
The advantages of using our
reverse logistics software include:
An all-in-one portal to manage returns
Tracking of returns automated
Technology that employs cloud-based storage for easy access and sharing
Ability to see individual reasons for returns
Data analysis to manage future returns and spot patterns
Data for forecasting
Customer retention through increased brand credibility
By working with us and our reverse logistics software, we can help your business reduce the number of product returns that are generated to begin with. However, when a return does occur, we can help cut down on costs that arise through the process by increasing efficiency and integration whilst also enhancing the customer experience and increasing the likelihood of repeat purchases.
Learn More with

Go Freight's Info E-books
Guide To Avoid Unnecessary
Freight Charges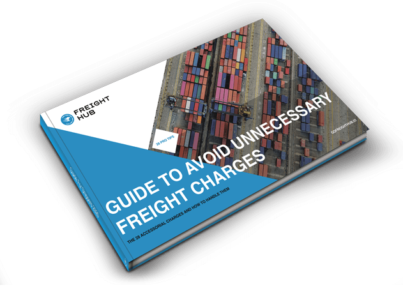 Includes 28 Pro-Tips to help you better anticipate, mitigate, manage, and in some cases prevent any unnecessary charges.
THE ULTIMATE GUIDE
TO FREIGHT SHIPPING THROUGH FLORIDA PORTS
When it comes to ocean freight shipping in Florida, there is a lot to know to ensure you follow the appropriate steps when shipping into and out of Florida Ports.