Transportation. Storage. Installation. 
All-in-One 3PL
We understand how much time and effort you have put into making your product and developing your brand image. Exhibiting your product and services in a successful trade show is very important for your business. Our team pays undivided attention to the fine details of goods transportation for your exhibition event.
You can count on our top-notch warehousing network where we have the capacity to store large volumes of goods before and after the event. You don't need to worry about the transportation and storage of your exhibits if Go Freight is your prime choice for trade show logistics services.
Get Started Today!
Start by requesting a freight quote or contact our
3PL experts to help you make the smartest decision.
Asset-Based Trade Show Logistics
Are you looking for a reliable trade show logistics company that can help you in making your exhibition event successful? Go Freight is your go-to logistics service provider that is well-equipped with the expertise and technologies to make your trade show goods transportation hassle-free.
Leave your trade show logistics to the professionals at Go Freight, and spend your time making the connections your business needs. Let us step in and handle all of the trade show logistical details so that you can concentrate on the reason you came in the first place: growing your business through new connections.
Go Freight

 Advantages:
Automatic visibility with AMS
Real time visibility with our WMS System
Ability to process Inbond IT, IE or TE
Ability to combine our asset-based bonded trucks to handle delivery and pick-ups
Single point of contact from start to finish.
In-house Customs Broker available
Trade Show Services

With Tech-Enabled 3PL Solutions
You can have more control over your freight with our advanced tracking systems and company own trucking and warehousing assets. Our 3PL company can guide you through the entire supply chain with exclusive technology available to our customers.
Our team of engineers created Go Truck Hub to provide our customers with an "Uber-Like" experience. Using Live GPS tracking, geofencing algorithms, automated updates, all on one online platform, professional company drivers and dispatchers to move your freight on time and secure.
Through booking and automation our cloud-based platform provides you with all the necessary data in one location for full domestic transparency.
Go Freight Tech-Enabled 3PL Solutions
Learn More with

Go Freight's Info E-books
Guide To Avoid Unnecessary
Freight Charges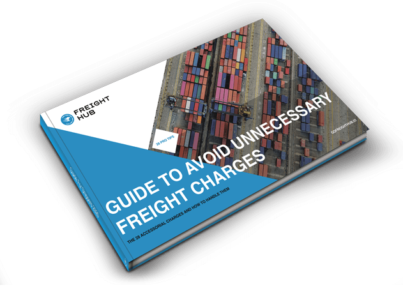 Includes 28 Pro-Tips to help you better anticipate, mitigate, manage, and in some cases prevent any unnecessary charges.
THE ULTIMATE GUIDE
TO FREIGHT SHIPPING THROUGH FLORIDA PORTS
When it comes to ocean freight shipping in Florida, there is a lot to know to ensure you follow the appropriate steps when shipping into and out of Florida Ports.